Looking for a delicious dinner option in Fernie?  How about Smokehouse? Chef Keith Ilavsky created the menu for Smokehouse from a desire to combine his Cajun influenced cuisine with long, slow, delicious smoked BBQ staples.  The result is unique to Fernie: Smokehouse – Slow Cooked Goodness.
Chef Ilavsky gave Southern classics a sophisticated make-over in several dishes.  The hushpuppies – cornmeal fritters with smoked jalapeno and ginger honey – are a great appetizer to share with the table.  The juicy brisket sandwich with slaw, smoked provolone cheese, pickled red onion, and smoked jalapeno aioli has become a fan favourite.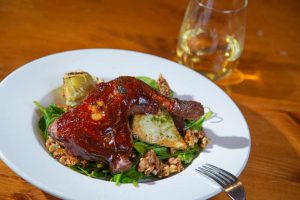 Smokehouse favourites are represented with a smoked pork belly starter, beer brined, applewood-smoked ribs, and cherrywood-smoked chicken leg. Thoughtful dressings such as their smoked peach and white balsamic vinaigrette complete delicious salads. Vegetarian options include the grilled haloumi burger on a potato chive bun with smoked garlic aioli.  You can also try the crispy marinated tofu with house-made BBQ sauce.
In the winter, guests come to Fernie from around the world with Nonstop Snow and keep the Red Tree Lodge very busy.   While staying in our comfortable accommodation and receiving great on-snow instruction, clients get to enjoy a variety of catered meals in Smokehouse during the week.  Therefore from January to April, we are generally only able to serve the public on Saturday nights.  Smokehouse serves Fernie locals and visitors alike seven days a week, starting in Spring until Christmas.